Piglet Percy Panic Prevented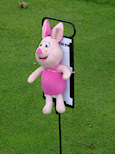 Percy the Piglet, young friend of Boyle's, was carrying out his usual task as Nearest the Pig marker during the Saturday Suckling Pig Trophy 18-hole contest. According to eye witness, Dave Townsend, a tall, swarthy be-turbanned individual emerged from behind a bush, grabbed Percy and ran off shouting "Aiyz temus" and "Aiza ta'mili hagat wiskha ma'aya". Dave and the rest of this SHIT group were obviously gobsmacked. Although strangely, not gobsmacked enough to raise the alarm and let other groups know what was going on. Strange also that a fanatical Muslim terrorist, as described by DLT, would handle anything to do with a Pig - which every sane, thinking full member of the CGS would have known immediately.
Anyway, as the SHIT group were the second group of three, the fact that Percy had gone AWOL was spotted by the Committee, playing in the third group. Guessing who the culprit might be (certainly not an Al Quaeda sympathizer), hasty messages were passed to the official CGS photographer and part time SAS (Sad Auld Sassenach according to she who must be obeyed) member who was covering the SHIT group at the time. A covert search of the bag belonging to the only CGS non-member playing in the group, who shall remain nameless, revealed Percy the Pig, stuffed into the back pocket of the bag - a really good hiding place, nobody would have thought of looking there! Unnoticed by the perpetrator, Percy was removed to a place of safety, scared, but otherwise unharmed.
Later on in the evening, as tense negotiations were taking place about the ultimate destiny of the Durex Shield, a condition was stipulated that Percy's safe return was paramount if negotiations were to continue. A short time later, the suspect went out to his car to attempt to retrieve Percy and smuggle him back unnoticed into the pub. Imagine his dismay when there was no sign of Percy (perched by now on a shelf 6 foot above the perps head). Strangled exclamations emanated as he realised he had been hoist by his own petard! Even a scrawled ransom note, put together by a confederate to take the heat off the prime suspect did not work. Upshot is that Percy was saved from a fate worse than death, evidenced by the periodic arrival over the weekend of the stuffing from another one of Ian's cuddly toys, which could not be saved. Members should check out the identikit picture below of the bush-jumping Arab described by Mr. Townsend (later revealed as a known member of the Tipton Taliban); if you ever do see him then maybe it wasn't Dave what did it after all!